I've found several old renders, some of those were never released because they were personal studies, had weird errors in the final render or
did not have the quality I try to uphold. 😉
But some of them still are very nice, so I decided it is time to catch up and try a remake to get them out there.
Some still use the 'old' Victoria 4 model which means they are not as detailed as the new models
First off is 'Dragon lady', this scene originated in 2010,l I tried a new texture with a dragon tattoo, but for some reasons it keeps crashing the mesh.
so I abandoned it short time later..  I changed her hair and tried and rebuild the mesh, it's not 100% perfect but good enough to show of her Tattoo.
changed the background and lights and I think it's nice.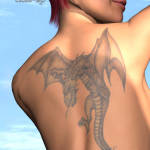 What do you think? Please comments ♥
See the portrait gallery for a full view